Bougainville voted at 97.7 percent in favour of independence in an historic referendum.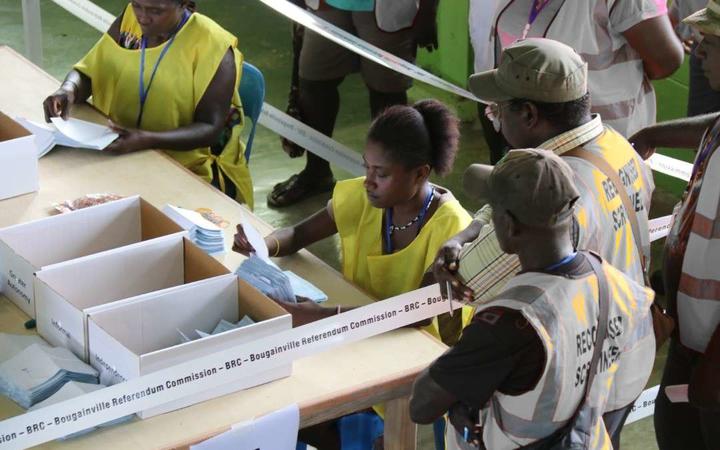 Vote count by referendum officials. Photo: Bougainville Referendum Commission
The result was announced yesterday of this autonomous region of Papua New Guinea by Bougainville Referendum Commission.
The polling was in place for the last two weeks with voters choosing between Bougainville continued autonomy or be part of PNG.
The overwehlming majority of 84 percent of registered voters chose the option of independence.
In Hutjena Hall on Buka, the commission's chairman, Bertie Ahern, announced that 176,928 of a total 181,067 people voted for independence.
As few as 3043 voted for greater autonomy.
The long-anticipated referendum is the ultimate provision of 2001's Bougainville Peace Agreement which followed a protracted civil war.
To come into effect, the result must be ratified by PNG's national parliament.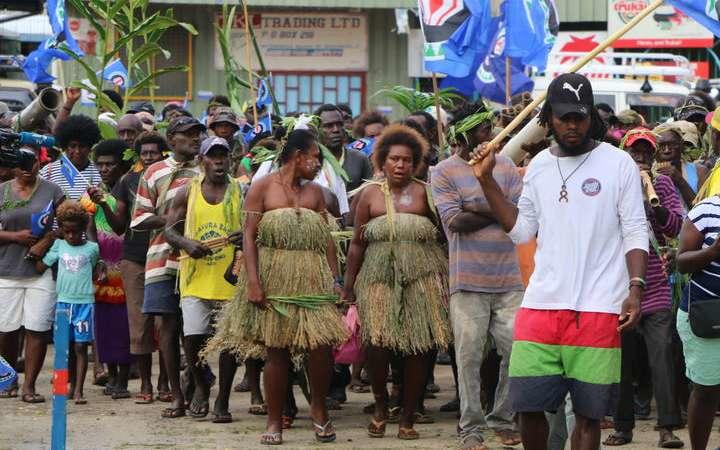 Photo: RNZ Pacific / Johnny Blades
A joint taskforce of between the PNG and Autonomous Bougainville governments is formed to conduct consultations on the result after the completion of the referendum.
There is uncertainty on both sides about how long this process might take, although PNG's cabinet is understood to be considering a process close to ten years for a possible transition to independence.
PNG's Minister for Bougainville Affairs, Sir Puka Temu, told those present in Buka today that both governments would adhere to the guidelines of the Peace Agreement, which did not determine a time frame for the consultation process.
Sir Puka said he wouldn't present the result to the parliament until after consultation has taken place.
"This is a transformational political announcement," he said, urging Bougainville to give PNG time to process the result.
Bertie Ahern. Photo: Bougainville Referendum Commission
Sir Puka also emphasised that PNG's parliament, not its government, nor that of Bougainville, remains the ultimate authority to decide on what comes of the referendum result, according to the Peace Agreement.
But with such an emphatic result, the president of Bougainvlle's autonomous government, John Momis, said the will of the people could not be ignored.
"So anybody who think he can use conventions, structures, laws and pressure to stop human beings from determining their future will not succeed," Mr Momis said in Buka.
"I think the current success of the referendum has clearly demonstrated that the people of Bougainville, by this successful oucome, now feel that they are psychologically liberated.
"We are liberated. Even though roads, bridges, hospitals and our schools are not good, at least psychologically we feel liberated, and that is important.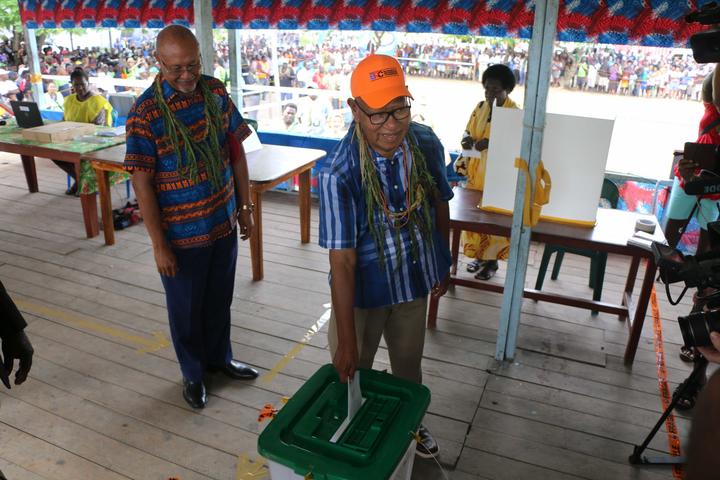 Photo: RNZ / Johnny Blades
"Because that should then motivate us to succeed in terms of good governance, in terms of observing democratic principles, and all these sorts of important things that good governance requires."
It remains unclear how long the consultations will take, and transition to independence for Bougainville is still not guaranteed while that process is incomplete.
Meanwhile, Mr Ahern, a former Irish prime minister, paid tribute to the people of Bougainville for their enthusiastic and peaceful participation in the process.
He wished both Bougainville and PNG governments all the best in their "ongoing journey" to navigate the next stage of this process.